Ondersteboven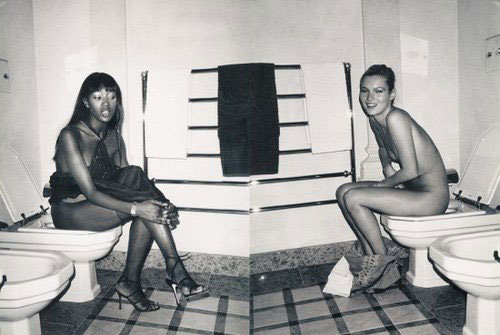 Vanaf het moment van de uitvinding van het wc-papier wordt er al over gesteggeld, een discussie die bekendstaat onder de naam "Toiletpapieroriëntatie" (of, in minder goed Nederlands: "the over versus under debate") en als zodanig ongetwijfeld zijn plaats in onze geschiedenisboeken zal innemen. Toen de uitvinding van het wc-papier zoals wij dat nu kennen (destijds bekend als 'perforated "wrapping" paper') in 1871 werd gepatenteerd, kon de uitvinder Seth Weeler niet voorzien wat zijn uitvinding allemaal teweeg zou brengen. Maar deze specifieke discussie lijkt al lang, lang geleden te zijn beslecht.
Waarschijnlijk had je al een licht (of donkerbruin, zo je wilt) vermoeden, maar de vraag waar het hier allemaal om draait, is of je de rol wc-papier met de velletjes bovenlangs of onderlangs moet ophangen (let op: dit geldt dus alleen voor de klassieke wc-papier ophangconstructie). Voor de mensen die visueel zijn ingesteld is de discussie hieronder samengevat in beeld.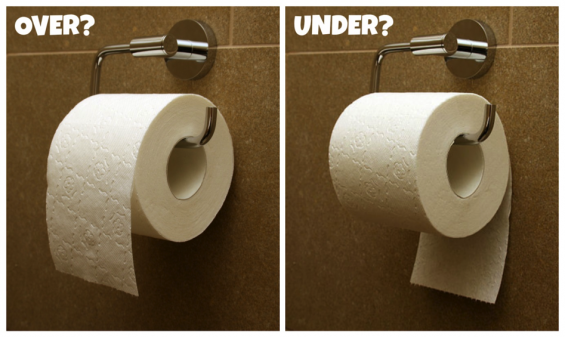 Ikzelf ben al jarenlang fervent aanhanger van de 'over-constructie' en in de sporadische gevallen dat mijn huisgenoot de rol ophangt volgens de 'under-constructie' is het huis dan ook te klein. Ook wanneer ik buitenshuis ergens een 'under' tegen kom dan maak ik daar, als het even kan, meteen een 'over' van. Dwangneuroot? Misschien, maar mag ik me er eindelijk in troosten dat ik de wetenschap aan mijn zijde heb? Het hoge woord is er officieel uit; de enige juiste methode om je rolletje op te hangen is (tromgeroffel) … de 'over-constructie'! Ook al zal dit voor sommige mensen moeilijk te verteren zijn, zij zullen met deze realiteit moeten gaan leven.
"Bewijs maar!" hoor ik de tegenstanders roepen. Nou vooruit. Zoals ik reeds aanhaalde heeft deze discussie eigenlijk al veel te lang bestaan en daarmee dus ook jarenlang nodeloos slachtoffers geëist .. dezelfde Seth Weeler heeft namelijk in 1891 nog een patent aangevraagd, welk patent pas zeer recentelijk weer boven is komen drijven (het patent en de uitvinding delen die eigenschap dus). Uit dit patent (zie hieronder) blijkt onomstotelijk dat het velletje papier bovenlangs dient te worden gedrapeerd. Een beeld zegt meer dan duizend woorden. Einde discussie.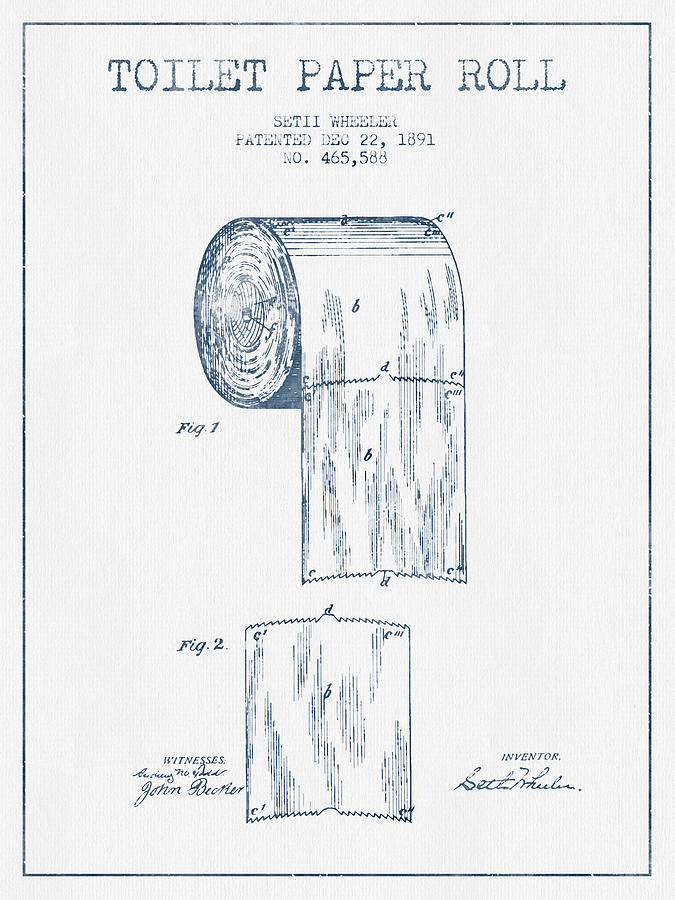 Gelukkig biedt wc-papier ons nog meer voer voor discussie, want wat is eigenlijk het beste; twee, drie of misschien zelfs wel vier laags wc-papier? Ook zijn er nog mensen die van mening zijn dat we met zijn allen terug moeten naar het klassieke wc-papier nu blijkt dat het extra zachte wc-papier dan misschien wel een stuk comfortabeler is voor onze billetjes dan het klassieke schuurpapier, maar wel weer zeer slecht voor het milieu. Over al deze zaken heeft de heer Wheeler vast niet nagedacht in zijn tijd, dus die mogen wij heerlijk in het hier en nu gaan beslechten. Er is echter één discussie, die van hóe we ons wc-papier eigenlijk moeten gebruiken, waaraan ik mijn vingers hier niet ga branden ..
Het kan niet anders dan dat je na het lezen hiervan geïntrigeerd bent geraakt door het fenomeen wc-papier. Volg deze link voor onder andere een spectaculaire manier voor het 'herladen' van je rol wc-papier (overigens helaas niet volgens de correcte ophangmethode, maar A for effort..)
Ondersteboven!i werd geschreven door Andreas.