Retro ranja met een rietje

Retro is weer helemaal nieuw. Vergeef me de contradictio in terminis, ik begrijp dat retro per definitie niet nieuw kan zijn. Retro is, anders dan het weer, weer helemaal heet vandaag de dag. Producten uit een lang verleden waar mensen graag nostalgisch over mijmeren in de trant van "wist je nog toen (…)?". Overigens is dit een grote faux pas, zoals Tony Soprano ons eens leerde; "Remember when is the lowest form of conversation." Daar moet ik hem wel gelijk in geven, dit valt in dezelfde categorie als over het weer praten. Naast de eerste zin vraag ik dus ook vergiffenis voor de derde zin.

In de mode is retro inmiddels een geaccepteerd fenomeen, alhoewel sommige dingen – zoals Dr. Martens schoenen – natuurlijk nooit kunnen, retro of niet. De voedingsmiddelenindustrie begint hier nu op in te haken. Vorig jaar werd de zuiveldrank Tjolk succesvol geherintroduceerd, mij zegt dit niet zoveel, maar dit komt waarschijnlijk omdat het in 1992 van de markt werd gehaald en toen had ik de leeftijd van consument nog niet bereikt. Naast Tjolk is er vanaf heden ook een ander drankje bezig zijn weg te vinden naar onze keukenkastjes. Het had een triviantvraag kunnen zijn; Wat dronk Sophietje (hieronder afgebeeld) met een rietje? Mocht je niet bekend zijn met het oeuvre van Johnny Lion en/of met zijn vriendin en voormalig fotomodel Sophie van Kleef, het antwoord is: ranja.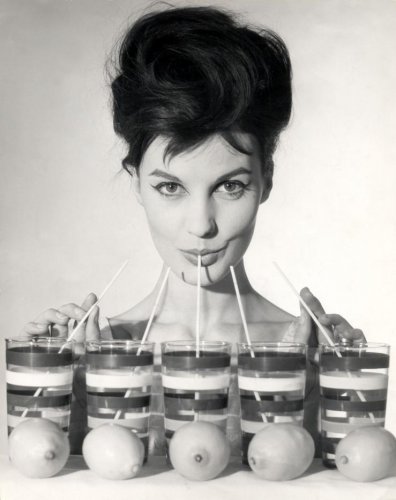 Naast deze non-alcoholische versnaperingen zal later dit jaar ook het biermerk Oranjeboom zijn *kuch* glorieuze *kuch* comeback maken. Vriendelijk verzoek aan Youp van 't Hek; zou je dit biermerk ook even willen Buckler'en zodra het terug is op de markt? Mijn herinneringen aan dit bier zijn niet erg goed, of eigenlijk heb ik amper herinneringen van de avonden dat ik het dronk, want migraine voelt als een lentebriesje door je haar in vergelijking met de koppijn die je kreeg na het drinken van Oranjeboom. Dit wordt overigens ook al de tweede comeback van het merk. Ik heb altijd geleerd dat een ezel zich geen twee keer aan dezelfde steen stoot, maar goed. Zoals onderstaande reclame uit de oude doos (pun intended) illustreert, smaakt het wel prima voor mensen bij wie de smaakpappillen al lang geleden gestopt zijn met werken.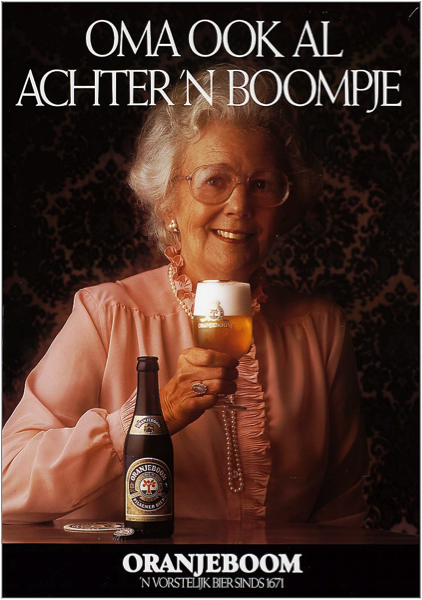 Zo, dat moest er even uit, excuus. Terug naar de ranja. Zoals gezegd is ranja ook een van de retroproducten die weer is terug te vinden in de schappen van uw betere buurtsuper. Tenzij je diabetes type 1, 2 en 3 wilt ontwikkelen, is het raadzaam je ranja aan te lengen met water, waarmee je het product – zogezegd – verwaterd. Een bruggetje was nooit zo makkelijk gelegd. Dit fenomeen kennen we namelijk ook in het merkenrecht. Wanneer een merknaam erg populair wordt kan het namelijk verwateren tot een soortnaam. Het gevolg hiervan is dat de merkinschrijving kan komen te vervallen of nietig kan worden verklaard. Naast ranja zijn bekende voorbeelden uit de geschiedenis bijvoorbeeld hagelslag en aspirine. Dit betekent dat je het woord hagelslag, naast dat dit niet zou getuigen van enige originaliteit, niet meer kan laten registreren als merknaam en jij en ik dus gewoon de naam hagelslag voor ons product mogen gebruiken indien we een nieuw en trendy hagelslagfabriekje willen opzetten in Amsterdam. Weer eens wat anders dan een brouwerij of koffiebarretje.
Het is als merkhouder van een populair merk dus essentieel om je merk goed te beschermen tegen verwatering. Zo moest Google zich vorig jaar in de VS met hand en tand verdedigen tegen het verwijt dat haar naam tot een soortnaam was verworden voor 'zoeken op het internet', Google kan opgelucht adem halen, de Amerikaanse rechter oordeelde dat Google geen soortnaam is geworden. Ondertussen was de merkhouder van het woord 'Spinning' (iets wat mensen vroeger deden, voor ze zich massaal stortte op Bikram Yoga en andere Zen-activiteiten) minder gelukkig. Het Europese Merkenbureau oordeelde dat dit merk tot een soortnaam is verwaterd in Tsjechië. De merkhouder had iets harder moeten fietsen om de verwatering van zijn merk aldaar te voorkomen.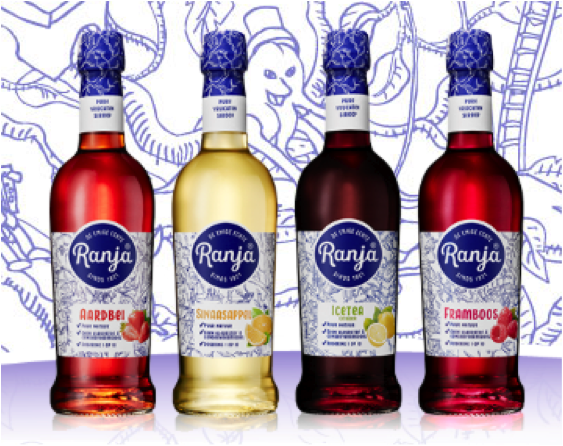 Het tegenovergestelde van verwateren bestaat ook. Dit heet inburgering, maar anders dan je zou verwachten is hier geen cursus voor vereist. Wat dan wel? Het publiek moet de soortnaam niet langer als zodanig gaan beschouwen, maar weer als een merknaam. Laten we ranja als voorbeeld nemen, nu een algemene aanduiding voor 'limonadesiroop' en dus niet te registreren als merk. Maar stel het is 2017, je zit op het terras en naast je (tenminste, ik hoop niet dat je het zelf zult zijn) hoor je iemand aan de garçon vragen om een glas ranja. Mocht de garçon antwoorden met: "Sorry, ik heb geen Ranja meer voor u, ik heb wel nog Bolero, Raak of AH Basic limonadesiroop en, onze dagspecial, een vintage Karvan Cevitám Cassis.", dan mag je ergens, voorzichtig, wel aannemen dat Ranja weer als een merk wordt beschouwd en daarmee is ingeburgerd. Tenzij je natuurlijk bij een 'leuk limonadesiroopbarretje in Oost' zit, want deze komen ook weer helemaal terug van weg te zijn geweest..
Deze blog is geschreven door Andreas Oomen